Pure Aesthetics Studio
Dr. Carole Neuman has added aesthetics to her medical practice.  In her aesthetics studio, she and her team offer top of the line laser treatments, non-invasive fat reduction as well as other cosmetic services.
Our aesthetic treatments include:
–Laser Face, Neck, and Décolleté Treatments
-G-spot Amplification
–Laser Hand Resurfacing
–Microneedling of Face, Neck, and Eyelids
-Vampire Facelift
-Non-invasive Jowl Facelift
–truSculpt3D: painless reduction of fat and skin tightening over abdomen, flanks, upper arms, bra line, thighs, jowls and neck
–Hair Restoration with Stem Cell Treatments
-Chemical Peels
-Microdermabrasion
–Dermaplaning
Vaginal and Vulvar Laser Rejuvenation
Our laser revitalizes and stimulates growth of the collagen supporting layer of the vagina.  This healthy collagen growth replaces old worn out collagen that can be the cause of:
-vaginal dryness and irritation
-painful intercourse
-lack of pleasurable sensation with intercourse
-recurrent vaginal infections
-mild leakage of urine
-recurrent vaginal infections
Sometimes diet and exercise aren't enough to get rid of stubborn fat and cellulite! truSculpt 3D is a non-invasive technology used for fat reduction and skin tightening. A handheld device sends radio-frequency energy deep below the surface of the skin to heat fat cells and cause them to die. This FDA approved treatment is painless and requires no downtime. We can perform this treatment on multiple parts of the body, including stomach, arms, thighs, upper knees and under the chin. Each individual area treated can take 15 minutes to an hour. Multiple areas can be done during the same session. Most patients only need one treatment. Although it takes 90 days for the dead fat cells to leave the body, results have been seen in as little as a few weeks after the treatment. Patients have said this treatment feels like a hot stone massage.
Call for your free consultation.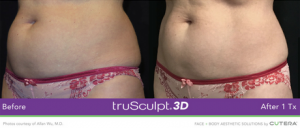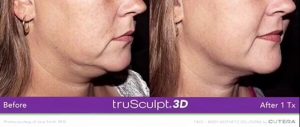 Laser Facial Rejuvenation helps diminish sun spots, fine wrinkles, and scars, giving an overall smoother face and an even skin tone. It can be performed on your face, hands, chest, and back. You may be red for a few days, resembling a sunburn and you may peel a little. Downtime is 6-7 days. Only one treatment is needed. Having this one treatment is like having multiple other non-invasive treatments at once.  It is also the best single treatment for advanced skin damage and wrinkling. Pair with our Amniofix (Stem Cells) for heightened results and decreased down time.
Microneedling is a minimally invasive treatment that transforms the look and feel of damaged skin to smoother, cleaner healthier looking skin. Microneedling reduces the appearance of acne and scarring, fine lines, wrinkles, stretch marks, hyperpigmentation and enlarged pores. It involves a small device that penetrates the skin creating controlled micro-dermal injuries. This stimulates the production of new collagen and elastin which in turn fills these imperfections, thus improving skin texture and firmness. Celebrities like Kim Kardashian and Jennifer Anniston swear by it. Pair this treatment with Amniofix (Stem Cells) for a non-surgical facelift.